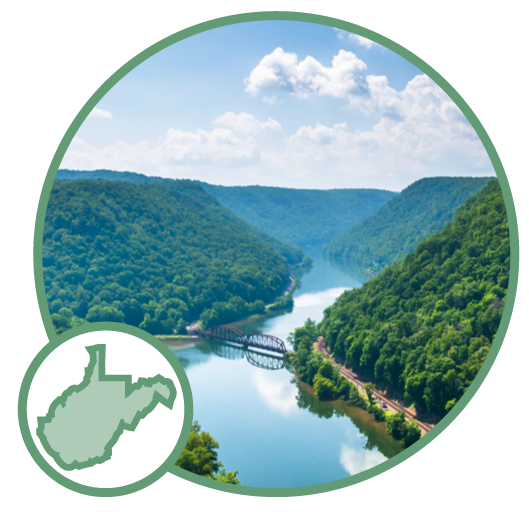 Welcome to the Appalachian Council website. The Appalachian Council has a long history of helping people. Since its formation in 1964, the organization has been engaged in programs to help improve the quality of life for thousands of people living in and around the Appalachian region. Our programs have included everything from the federal Job Corps program to state-level initiatives throughout West Virginia and the rest of Appalachia.
From its very beginning, the Appalachian Council has been concerned with changing lives by helping people reach their fullest potential through education and workforce training. Our mission emanates from a distinct belief that we have a responsibility to help one another and that when people have opportunities for self-improvement they will rise to the occasion.
Today, the Appalachian Council continues its mission of providing life-changing opportunities by administering the federal Head Start program in eleven West Virginia Counties. The Head Start program is designed "to promote the school readiness of low-income children by enhancing their cognitive, social, and emotional development . . . in a learning environment that supports children's growth in language, literacy, mathematics, science, social and emotional functioning, creative arts, physical skills, and approaches to learning."
Currently the Appalachian Council operates nine stand-alone facilities, providing Pre-K/early learning opportunities to three and four-year old children and their families in Boone, Jackson, Putnam, and Wood Counties. In addition to our stand-alone sites, we participate in collaborative partnerships with the Boards of Education in Clay, Calhoun, Doddridge, Pleasants, Roane, Wirt, and Tyler Counties.
As a mission-driven nonprofit organization, we are proud to continue the amazing work that began over fifty years ago through the vision of our founder Miles Stanley. Although the Appalachian Council has seen many changes in its organization and program offerings over the last twenty-years, we remain committed to the idea that we can make a difference in the lives of our fellow man. As we move forward into the future, we remain dedicated to the mission to provide life-changing educational, training, and career development opportunities for the people of West Virginia and the Appalachian region.
About Dr.Keith

As a leader in the nonprofit sector, Dr. Philip M. Keith has been involved in organizational leadership, education, and workforce training for the last fifteen years. He completed his doctoral studies in educational leadership at West Virginia University in 2011. In 2015 he was appointed by Governor Tomblin to serve a three-year term on the State's Commission for National and Community Service. He has been the CEO of the AFL-CIO Appalachian Council, Inc. since August 2016.